Products
JCB Excavator Spare parts JS145 Excavator Hydraulic Pump parts 332/J1352 Replacement
Item No.: JS145 332/J1352 hydraulic pump parts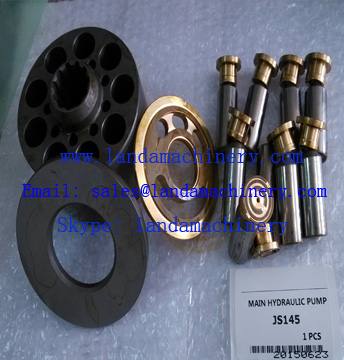 Product Description
JCB Excavator Spare parts JS145 Excavator Hydraulic Pump parts 332/J1352 Replacement service kit
Landa Machinery Equipment Co., Limited supply brands of excavators spare parts, Quality replacement parts for Caterpillar, Case, Daewoo Doosan, Hitachi, Hyundai, JCB, John Deere, Kobelco, Komatsu, Kato, Kubota, Sumitomo, Volvo, etc. Genuine original parts and high quality stable OEM parts meet different need for customers. Full range Excavator Hydraulic System Oil Seal Components and seal kits, Hydraulic Breaker rock hammer oil seal and seal kits, Hydraulic Pump and Hydraulic Motor, and repair component kits for hydraulic pump and motors, Engine parts and engine related parts, electric solenoid valve, sensors, etc.

A. In order to give you fast and accurate pricing information, we need some details about the machine engine/application and the part number of the part you want. And, size and pictures will be better if you are not sure about it. We can check and help you with it.
B. If you can not find the parts you want here, please contact us for and inquiry. Thank you.
Parts List:

JCB excavator spare parts for JS145 Excavator hydraulic main pump 332/J1352, Cylinder block, valve plate, retainer plate, piston shoe assy, shoe plate, guide, drive shaft, seal kit, ball bearing, rubber o-ring, oil seal, etc. Replacement parts available in stock, mini order shipping in 48 hours after order confirmed; shipping by seal handling time around 3-7 working days.
| | | | |
| --- | --- | --- | --- |
| 20/925770 | 332/E5680 | Motor track | 332/J1352 |
| JRJ0213 | 332/E5655 | Shaft | 20/951263 |
| KRJ3451 | 332/E3415 | Kit-piston assembly | 828/10220 |
| KRJ2657 | 332/E5656 | Plate valve | 332/C1080 |
| 331/J1504 | 332/E5657 | Plate Retainer | 332/C2247 |
| 20/925315 | 332/E5659 | Plate swash | LNM0434 |
| 332/H3935 | 332/E5664 | Ball steel | LPM0120 |
| 05/903899 | 332/E5665 | Bearing | LAM0063 |
| 25/222665 | 332/E5666 | Bearing | LTM0207 |
| 20/951813 | 332/E5667 | Ring snap | LZM0336 |
| 20/925315 | 332/E5668 | Seat spring | LMP0119 |
| LMM0338 | 332/E5669 | Spring | LZM0337 |
| LAM0037 | 332/E5670 | Collar thrust | LZM0346 |
| LTM0129 | 332/E5671 | Pin | LZM0345 |
| LSM0080 | 332/E5672 | Seal oil | LBQ5255 |
| LMM0334 | 332/E5677 | O ring | LPM0113 |
| LMM0335 | 332/E5679 | O ring | LBQ5257 |
| LMM0337 | 332/E5652 | O ring | LZM0333 |
| LMM0336 | 332/E5683 | Piston | LNM0431 |
| LBQ5262 | 332/E3432 | Plate friction | 20/951813 |
| LPM0117 | 332/E3483 | Plate disc | 20/951606 |
| LBQ5263 | LAM0058 | O ring | 20/925674 |
| 828/00329 | Lam0059 | O ring | 20/951603 |
| LZM0335 | LBQ0072 | O ring | 20/951604 |
| LTM0130 | LBQ0182 | O ring | 20/951814 |
| LPM0117 | LQM0029 | Kit-sealtrack motor | 20/951607 |
| LBQ5263 | LMP0210 | Lam0059 | LZM0335 |
| 828/00329 | LZP0176 | LBQ0072 | 20/925315 |
| 05-903805 | 20/951844 | LBQ0182 | LMM0338 |