Products
Product Description
Hyundai R220LC-5 Excavator Spare Parts Hydraulic Piston Main Pump
Hydraulic piston pump for Hyundai excavator R220LC-5 digger Robex 220LC main hydraulic power system Main pump.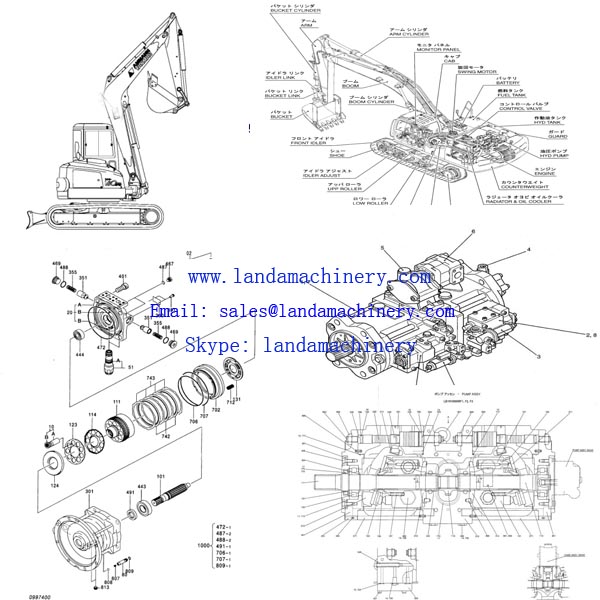 A. In order to give you fast and accurate pricing information, we need some details about the machine engine/application and the part number of the part you want. And, size and pictures will be better if you are not sure about it. We can check and help you with it.
B. If you can not find the parts you want here, please contact us for inquiry. Thank you.
Email: sales@landamachinery.com
Skype: Landamachinery
| | | | |
| --- | --- | --- | --- |
| 2933800774 | SHAFT | 31E1-03110 | MAIN PUMP |
| 2933800883 | SHAFT | 11E1-1506 | COUPLING ASS |
| 2953801763 | COUPLING | 11E1-1507 | COUPLING |
| PNUP308K | ROLLER BEARING | 11E1-1508 | HUB |
| PRNA6906 | ROLLER BEARING | 11E1-1509 | INSERT COUPLING |
| 38800-127 | WSHER | 11E1-1510 | INSERT COUPLING |
| 2933800787 | CYLINDER | S109-160506 | BOLT |
| 38901-151 | PISTON | 11E1-1511 | BOLT |
| 38900-152 | SHOE | S472-500102 | PIN SPRING |
| 2943800463 | SET PLATE | 11E1-1512 | PLATE |
| 2953801765 | BUSH | E111-1503 | COVER |
| 2953801769 | SPRING | S109-200506 | BOLT |
| 2953801764 | SPACER | S017-120352 | BOLT |
| 68710-00-211 | SHOE PLATE | S017-120552 | BOLT |
| 2933800813 | SWASH PLATE | S411-120002 | PIN SPRING |
| P1R2025125 | BUSH | S472-910204 | PIN SPRING |
| 2923800809 | SUPPORT PLATE | S017-120602 | BOLT |